Belize Book In the Heat by Ian Vasquez
Belize Books are very entertaining.
So why would I go to meet a Writer, Ian Vasquez, who lives now in St. Petersburg, Florida? Well, let me tell you. I felt it was so important to speak with this Man and get his story after having so enjoyed reading his book. The book is called "In The Heat" and takes place in Belize Central America.
Ian Vasquez grew up in Belize City and his story is based upon a younger man named Miles Young. Miles Young, who is a local boxing hero, also lives in the city. Miles is a devoted Father to his daughter. His major purpose in life seems to be protecting her from danger and occasionally from her own mother. Vasquez's writing takes you right into the story in such a way, that you actually feel you are walking thru the life of his main character. Miles adventures take him from the Belize inner city to the Cayo District. It is fun to be taken in this story to familiar ar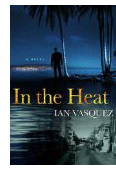 eas of Belize. Reading this book, you become part of the mystery that evolves throughout the story.
Ian, the writer, shared with me that he learned a very valuable lesson, that this book is now a visible product of Belize. He wrote his stories as a writer is instructed to do so planning them out all the way to the ending.
Yet, he says he felt something was missing. So Ian had the inspiration (which comes from the word, In Spiritus, which is Latin for In Spirit) to write as the story unfolded page by page, line by line, and to have fun with it. Ian says that if the writer is not having fun writing the story, chances are the reader will not either.
I can tell you for sure, that Ian Vasquez not only entertained me in this book, In The Heat, he also amazed me how captivated his story kept me. I feel that Ian has very successfully written this book in the manner he set out to accomplish. For the purpose of entertainment, both for the reader and to bring to life Miles, as a hero you will want to read more and more about !